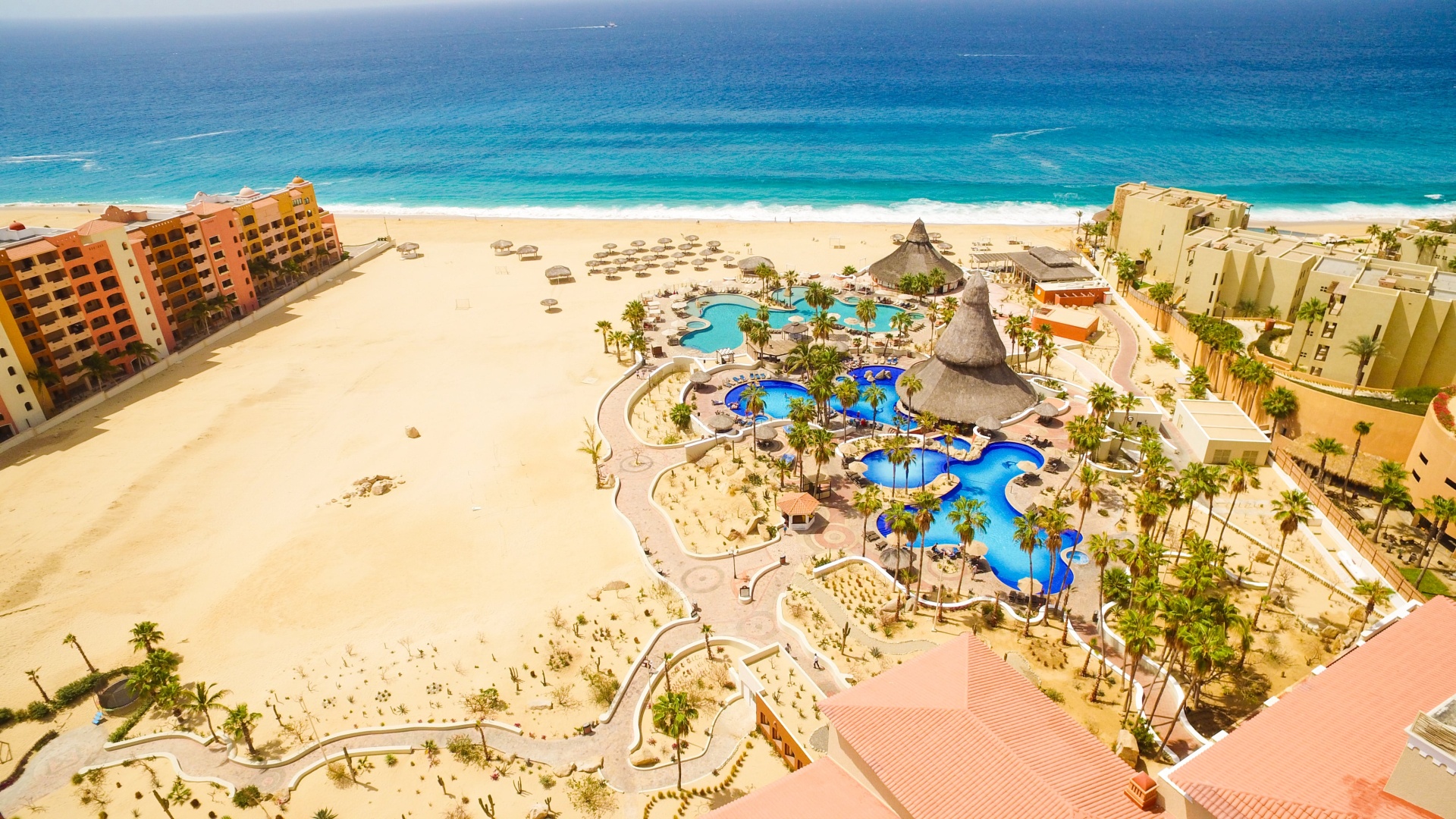 FREQUENTLY ASKED QUESTIONS
RESORT SERVICES & AMENITIES
What does the All Inclusive Plan Includes?
Food and beverage
Unlimited food and beverage
Activities
Tennis court
Gym
Entertainment
Entertainment shows and daily activities
Nightclub
Nighttime shows
Services
WiFi
Concierge
Kids Club
Additional Services
Available depending on the reserved room category
What is not included?
The amenities and services that are not included in your all-inclusive package are select wines and liquors, private dinners, spa treatments, beauty salon, phone calls, laundry, babysitters and external tours from agencies located in the hotel, among other additional services.
What are special measures being taken in the hotel in terms of hygiene and safety to prevent the spread of Covid-19?
At Sandos Hotels & Resorts, we take the safety of our guests and collaborators very seriously. We have implemented a series of hygiene protocols to guarantee a clean and safe environment. To see more detailed information about our procedures, visit our Clean Stay section. 
Do you carry out Covid-19 tests in the hotel? 
Yes, we have an agreement at a special rate with AMC. For this reason to avoid the displacement of guests, all of the COVID-19 tests are done in the hotel. See here for more details. 
Do you have room service?
Yes, we have room service 24 hours a day.
Do you have baby amenities?
Yes, we have cradles and playpens for babies; to request one, send an email to [email protected]. Please take into account that there are no strollers, so you should bring your own.
How many rooms does the hotel have?
The hotel has 272 rooms.
Is there free wifi inside the rooms?
Yes, wifi is free and available in all areas of the hotel, even in the rooms.
Is the safe included?
Yes. We have a digital safe included in each room.
Are alcoholic beverages included in the all-inclusive package?
Alcoholic beverages are included in the all-inclusive packages for guests 18 and over.
Are pool towels included?
Yes, they are included and available in the pool area.
Should I tip employees?
Our all-inclusive plan already considers tips for our collaborators; however, feel free to leave any additional contribution.
Is there a Spa at Sandos Finisterra?
Of course! At Spa del Mar, you'll find massage treatments, facials treatment, a beauty salon, a fitness center, a hydrotherapy area, and relaxing packages.
How can I book a treatment or Spa service?
You can book it at reception, at the spa facilities, with Concierge, online by sending an email to [email protected] 
Where can I find information about spa costs and treatments?
Here you can find the different spa services we offer, as well as their prices.
Is the gym included with the stay?
Yes, we have a well-equipped gym for adults only, open from 6:00 am to 6:00 pm.
I want to organize a wedding.
Find here the different wedding packages and locations that we have for you.
Can I organize celebrations like birthdays, anniversaries, and honeymoons?
Yes, our concierge team will be happy to help you organize any celebration. You can contact us via email at [email protected]
Do you have decoration service for special occasions?
If you want to make your stay even more memorable, you can request special decorations to celebrate your honeymoon, anniversary, birthday, etc., and surprise that special someone. We have a special decoration catalog to choose from for celebration moments available at the concierge desk. Please contact us for any further information before or during your stay.
How can I request a special decoration?
To request a special decoration, please send an email to [email protected] (additional charges may apply).
 
Can you help me propuse to my significant other?
Yes! We celebrate love! For details about price and planning, please send your ideas to [email protected]
Does the hotel also work on Sunday?
Yes, we are open every day of the year, 24 hours a day.
Is there parking at the hotel?
Yes, there is parking for guests who drive to the hotel.
Can you pay by credit card?
Yes, you can pay with most major credit cards.
Does the reception work 24 hours?
Yes, we are at your disposal at the 24-hour reception.
How often is room cleaning done?
Our housekeeping department cleans the rooms every day according to the most advanced cleaning protocols. Find here all of our protocols and procedures that guarantee a clean stay at Sandos.
Do you have a babysitting service?
Yes, we have a babysitting service, you can request it with our concierge. This service generates an additional cost and is subject to availability
What kind of activities does the hotel have for adults and children?
We have a complete entertainment program throughout the year, which includes activities for children and adults. You can check the program here.
What activities and services do you offer outside of the all-inclusive plan?
In addition to the all-inclusive plan, we have services and activities at a cost. You can find the lists of services in the following links: spa, tours and transfers, activities, and water sports.
Does the hotel have heated swimming pools?
No, we do not have heated pools; however, the water remains warm and is perfect for cooling off.
Does the hotel have a pool bar?
Yes, you can enjoy your favorite drink in the hotel pool.
Do the rooms have English TV channels?
Yes, we have some channels in English. You can ask for the available TV channels with  reception.
Where can I find laundry services?
The hotel offers laundry service at an extra cost. You can dial our operator to request it.
Does the hotel have air conditioning?
Yes, all of our rooms have air conditioning.
Do you have rooms with a computer?
We do not have computers in the rooms or in the hotel areas. However, our wifi network is available in common areas.
Does the hotel offer a microwave oven rental?
No, we do not have microwave oven rentals
BOOKING QUESTIONS
How can I confirm my reservation if I have not made it with Sandos?
Contact the travel agency or the channel through which you booked to confirm.
Does the reservation include taxes?
Yes, all taxes are included at the time of booking, except for the Municipality of Los Cabo's Environmental Sanitation Tax which must be paid upon arrival at the hotel. The tax is a total of $33.68 Mexican Pesos per room per night. However, if the municipality decides to modify this policy, the amount may vary at the time of your arrival.
How can I cancel a reservation?
You can cancel a reservation in the My Reservation section of our website sandos.com, or through our call center.
How can I add another person to my reservation?
Contact our call center or your travel agency.
What is the check-in time?
Check-in is at 3 pm. However, you can arrive at the hotel earlier and wait for your room to be ready.
What is the check-out time?
You must be out of the room at 12 pm. Late checkouts are subject to availability.
Are there any holds on the credit card during check-in? 
Yes, during check-in, all reservations will be asked for a credit card to make a hold for the amount of 5,000 MXN. This is to accommodate any possible incidents. During the guest's check-out, the reception will release the amount held.
Are there discounts for seniors?
At this time we offer a discount for travelers over 55 years old.
Are the hotel and rooms adapted for people with disabilities?
Yes, the hotel is accessible to people with disabilities. Please indicate that you are accompanied by people with disabilities when making your reservation.
Are there bathrooms with a spacious shower?
Yes, each room is equipped with a spacious shower.
I am a frequent customer, can I have a discount?
Of course, once you have completed your registration in our Sandos4U loyalty program, you will be able to exchange your points for rewards and discounts on your next bookings.
If I need to leave comments about my experience at the hotel, who can I contact?
At Sandos, we will always be very grateful for your opinions and feedback as they allow us to grow and provide you with a better experience each time you visit us. You can send us your comments to the email [email protected]
I need a late checkout
You can communicate directly to our call center to request it. Late departures have an additional cost according to the category reserved and are subject to availability.
What are the measurements of the rooms?
You can check all the details of our rooms here .
Does the hotel accept pets?
For safety and hygiene reasons, the hotel does not accept pets. However, the hotel does accept service dogs and are asked to wear a vest to identify the dog, so other guests will not distract them from their duty. Emotional support or psychiatric service dogs are only allowed upon presentation of all required forms, and their stay is only allowed in the room, not in public areas, restaurants, or bars.
If I travel in a group, can I have connecting rooms or rooms together?

We recommend you indicate this request when making your reservation. Our team will do everything possible to accommodate your request; however, it is subject to availability.
How many sections does the resort have?
Three: Junior Suite Section, Marina View Section and Finisterra Suite Section
Where can I see the current deals?
You can see the current special deals here.
How can I see or book a stay?
You can check availability, get quotes, and book online by clicking here. You can also send an email to [email protected], and/or call the following numbers:
From North America - Mexico: 01 800 907 52 92
From North America - USA: 1 866 336 4083
From North America - Canada: 1 866 941 0851
From Spain: +34 971 78 33 02
From UK & Europe: +44 20 305 137 68
From Argentina: 0 800 122 04 06
TRAVEL & PACKING TIPS
What do you recommend to pack?
It depends on the season in which you visit us, but in general, we recommend you to bring beachwear and accessories such as:
Water shoes
Trekking shoes
A light cap or hat
Sunglasses
Snorkel mask
Biodegradable sunscreen
Biodegradable mosquito repellent
Power adapter (220 to 110 volts)
Plus, we recommend you pack smart casual clothes for à la carte restaurants and a light jacket.
 
Can I pack something extra to help local communities?
Yes! Thanks to the Pack for a Purpose Program with the Sandos Foundation, our guests can bring with them some much-needed items which will be donated to local kids and their families to help them improve their living conditions. 
 
How is the weather at Sandos Finisterra?
We remind you that we are located in Los Cabos, so we have a tropical and dry climate; that is, we typically have sun almost all day and if it rains, the rainfall is usually short and light. Due to this, the area humidity level is medium to low.
What is the hotel beach like?
For safety reasons, our beach is not recommended for swimming, but it is perfect for sitting on the sand, enjoying the sea breeze and fresh air, taking walks with your family, or spending a romantic moment with your partner.
Does the hotel have stores?
Yes, within our facilities we have convenience stores where you will find basic necessities, as well as souvenirs.
At what age is considered an adult?
In Mexico, the age of majority begins at 18 years of age.
What currency should I travel with?
The stores accept Mexican pesos (MXN) and mostly US dollars (USD). Also, in some cases, they can accept euros (EUR).
Can I pay with a debit or credit card?
Yes, we accept most major credit and debit cards.
Are there ATMs in Los Cabos?
Yes, you can find ATMs in the city center, both in US dollars (USD) and in Mexican pesos (MXN).
Is it safe to exchange money at the exchange houses?
Yes it is safe. We recommend you attend well-established exchange houses and check other users' opinions on social networks or the internet about the place.
Is it advisable to go diving in the area?
Diving in Los Cabos is one of the most fun and requested activities by lovers of this sport due to a large amount of flora and fauna that inhabit the underwater ecosystem. Learn more about this activity and how to practice it here .
Will my phone work while I'm in Mexico?
In Mexico, practically all telephone networks work; however, we recommend that you verify the service and charges with your provider before traveling.
Do I need to speak Spanish?
Although coming to Mexico can be a great opportunity to practice Spanish, you don't need to speak it as most of our collaborators speak English very well.
TRANSPORTATION & LOCATION
How do I get to the hotel?
When leaving San José del Cabo Airport, you must take the Santa Anita Highway for around 58 miles, then turn left at the Cabo San Lucas street, and keep forward up to the end of the road. Along the way, you'll see multiple signs indicating the right direction.
How is the weather at the destination normally?
Fortunately, in the region, we have a warm and sunny climate most of the year, perfect for having fun on the beach. Find here all the details about the weather during the year and the perfect time to visit.
What makes Sandos Finisterra unique?
At Sandos Finisterra, we are committed to showing our guests the wonders of Mexico while at the same time helping the environment. As a resort, we are in love with providing you with only the best. That's why at Sandos Finisterra we offer you amazing views, fun and adventure, a thrilling activities program, and an incredible culinary experience.
What should I expect on my visit to Sandos Finisterra?
When coming to Sandos Finisterra you should expect a unique hotel full of beautiful views, fun, adventure, and new memories. It is crucial to mention that Sandos Finisterra is located on a mountain, and even with elevators, there are steps around the property.
Where can I find the hotel map?
You can download the hotel map by clicking here.
Does the All Inclusive package include transportation?
Our hotel does have a transportation service; however, this has an additional cost and is made through the Seek N Go agency. Reserve by sending an email to [email protected] or call the following numbers:
From North America - Mexico 01 800 907 52 92
From North America - Canada 1 866 941 0851
From North America - USA 1 866 336 4083
From Spain +34 971 78 33 02
From Europe - UK +44 20 305 137 68
 
How can I go to the Marina of Los Cabos from the hotel?
Going to the Marina is really easy, you just go out of the hotel and you will find it right in front of you.
If you decide to walk, take your first left from the hotel and continue into the downtown area. You will have a fresh breeze and some stores to explore.
Is it safe to board taxis?
At the hotel, we have a very secure taxi stand as we check the vehicles at the complex entrance and exit.
Does Uber exist in Los Cabos?
Yes, however, not in legal operations. As of December 2020, Uber has still not been grated operating licenses as inclusion in the transportation laws of Baja California SUR. Due to the recent COVID-19 pandemic, to help prevent the spreading of COVID-19 public health officials have made recommendations on licensed auto travel. All licensed taxis and transportation services must comply with COVID-19 vehicle cleaning protocols.
Car rental
There is a car rental service that can be booked at the drop-off point or in the lobby.
How can I book transfers?
You can book a transfer at Seek & Go site, by phone, or by email directly with our call center.
KIDS CLUB
Do you have a Kids Club at the hotel?
Yes.
Do you accept children of all ages?
Our Kids Club is a space designed especially for little ones and is available for children from 4 to 12 years old.
My son is younger. Does that mean he cannot enter?
Children 2 and 3 years old can access the facilities only from 10:00 am to 1:00 pm and from 3:00 pm to 5:00 pm, always with a parent or guardian.
Are there any restrictions on the schedule to register children at the Kids Club?
Yes, kids can be registered from 10:00 am to 11:00 am, while kids are admitted from 10:00 am to 10:00 pm as long as they are already registered.
Are there any admission restrictions at the Kids Club?
Yes, for your kids' safety, small children with fever, diarrhea, vomit or an infectious disease are not admitted; children with special needs or a disability must be accompanied by a parent or guardian at all times.
My son has some allergies. What should I do?
Parents have the responsibility to inform the Kids Club staff about any child allergies, if they have a disease of any kind, or if they are taking any medication that may alter their behavior.
Can you provide medication to my child when I am not around?
The Kids Club staff is not authorized to provide any medication.
Can my child eat during their stay at the Kids Club?
If the child wants to stay for lunch, the parent or guardian must inform and reserve during their registration before 11:00 am.
Do children stay inside all the time at the Kids Club?
No, there are outdoor activities in the Kids Club program, so we ask the parents or guardians to apply sunscreen before leaving them. The Kids Club staff is not authorized to apply creams or sunscreen.
Will My child always be in the Kids Club facilities?
No, some activities are done outside of the Kids Club area, but they all take place within the hotel property. If you don't want your child to leave the Kids Club facilities, you must specify on their sign-up form.
What happens if a child misbehaves?
In the event that any child exhibits misconduct, violence, or any behavior perceived as a risk to another child or to the Kids Club staff, the hotel interrupts the child's visit to the Kids Club and notifies the parents immediately; the Kids Club also reserves the right to refuse admission.
RESTAURANTS & BARS
How many restaurants are there in the hotel?
We have five restaurants, Buffet-style restaurant; Don Diego, À la carte restaurants; Emiliano's, Tortuga, Agave, and snack; Agave and oven made pizza. To see schedules and other details, click here.
What is the restaurant dress code?
The dress code for our à la carte restaurants is smart casual: No swimsuit or wet clothes are allowed. A shirt and shoes/sandals are required (no flip flops). Men's shirts must have sleeves, and Bermuda shorts are allowed.
Our main buffet restaurant has a more casual dress code: No wet clothing allowed. Shirt and shoes/sandals required. Men's shirts must have sleeves.
Which restaurants require a reservation?
Due to the sanitary contingency, special messurements have been taken by restaurants to avoid big crowds.
I have allergies and / or eating restrictions. What options are there for me?
We have a selection of food for people with allergies and / or food restrictions, so we ask you to please, in addition to notifying us when you check in to the hotel, notify your waiter so they can show you the options available for you.
Are there gluten-free food options?
Yes, each gluten-free option is clearly detailed in the restaurants. Please notify the reception of all your food restrictions at the time of check-in.
Do restaurants offer vegan options?
Yes, ask your waiter what the vegan options are at each of the restaurants.
What are the restaurant hours?
Hours vary by the restaurant; however, you will always find a restaurant available for breakfast, lunch, dinner, or snacks.
What is the cost of food and drinks in restaurants?
All food and drinks are part of the all-inclusive plan.