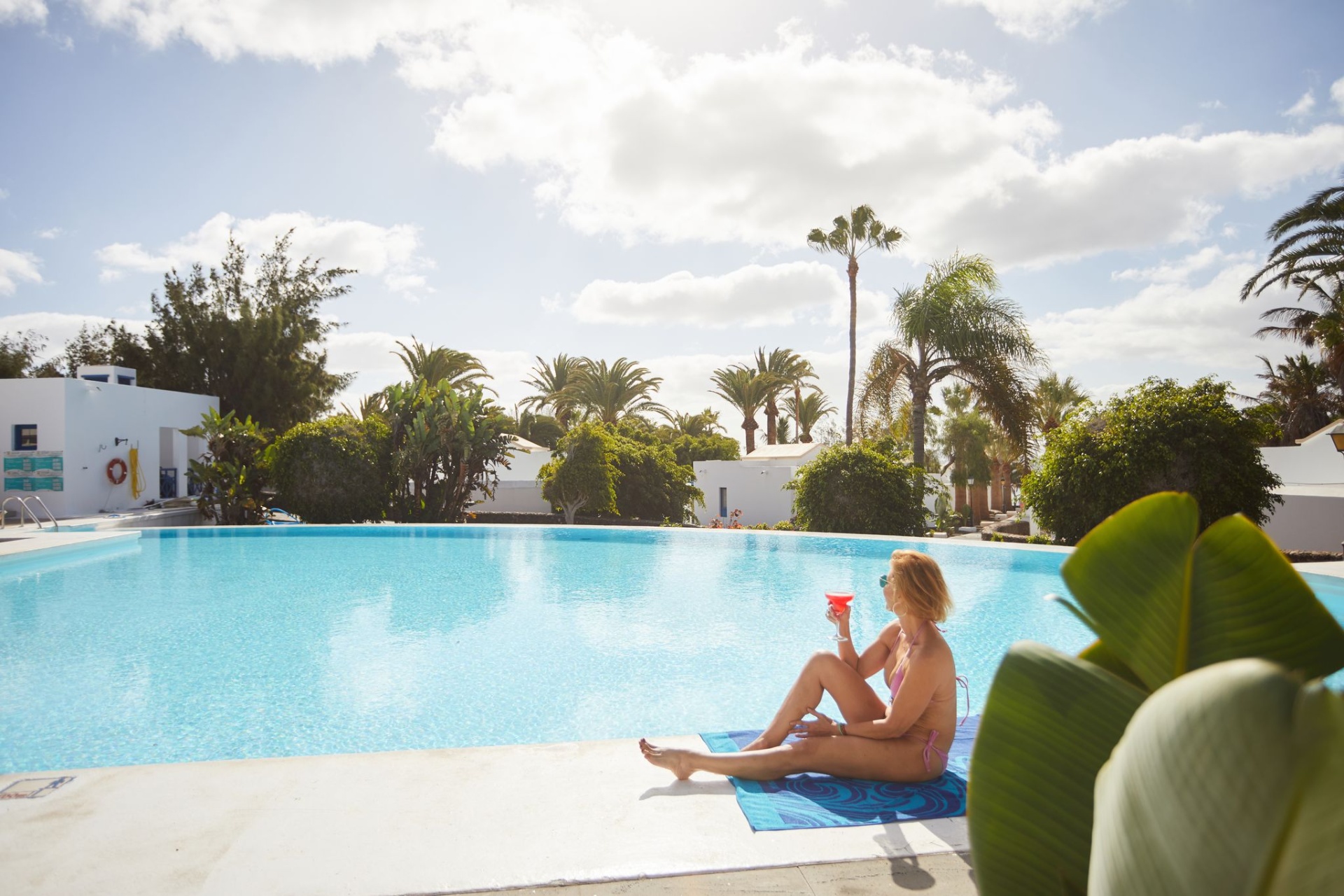 Learn about all the offers at Sandos Atlantic Gardens located in Playa Blanca (Canary Islands), our adults only hotel with a wellbeing approach (over 16 years old).
At the hotel, we have different accommodation options designed to adapt to your vacation needs; these options are bed and breakfast, half board, and all-inclusive. You can enjoy our bars and our buffet restaurant during your stay with us. In addition, you can dive into our pool while having a refreshing drink in our pool bar. Choose one of our bungalows with a sea view or discover our wellbeing holiday package, an experience to rediscover your inner self. Discover the Ocean & Volcano Experience and enjoy wellbeing activities such as meditation, Chi Kung, Tibetan Bowls, learn about agriculture with our workshops in the organic garden, or go on trekking walks where you can see spectacular places that surround our hotel. Finally, do not miss our social networking activities in which you can interact with other hotel guests and promote social relationships.
Exploring the volcanic island of Lanzarote is an adventure, and you will discover beaches of spectacular black or golden sand that blend in perfect harmony with the intense blue waters of the Atlantic Ocean. Near the hotel is the Los Ajaches natural park, a natural paradise where you can discover one of the best beaches in Spain; Playa del Papagayo. In this park, there are a set of beaches located in a unique natural area known as the Papagayo beaches, from which there are spectacular views of the neighboring island of Fuerteventura.
If you like diving, you can visit the only underwater museum in Spain, the Museo del Atlántico, a place created to protect and regenerate the marine biodiversity of the place. We work with the Rubicon Diving company that organizes diving excursions for all levels to this spectacular marine museum.
In the neighboring cities of Puerto del Carmen and Costa Teguise, you can participate in a wide variety of water sports such as surfing or windsurfing. In Playa Blanca, the town where Sandos Atlantic Gardens is located, lay Flamingo Beach, Las Coloradas Beach, and Playa Blanca. They are perfect for spending a quiet day on the coast as they are beaches protected from the winds allowing you to enjoy a swim without being disrupted by waves.
Lanzarote, even being a tourist beach enclave, has managed to preserve its essence and nature, becoming a place with a unique character, famous for the mixture of black, white, and green colors, influenced by the Lanzarote tradition and by the artist César Manrique.
If you want to visit the different attractions of the island apart from its beautiful beaches, the Timanfaya National Park is a place that will teleport you to Mars. This protected area originated from the eruptions on the island in the 18th century, eruptions that have given the island its current appearance, giving it the unique characteristic of black volcanic sand. Visiting this park will be one of the best decisions you can make on your vacation, ask our employees for information on day trips to this incredible location. Another magical place that you should not miss during your stay in Lanzarote is the Cueva de Los Verdes, a cave that also originates from the volcanic eruption. It is a place full of history, and even different concerts take place inside.
Start enjoying our offers for your perfect vacation with your family, partner, or friends!