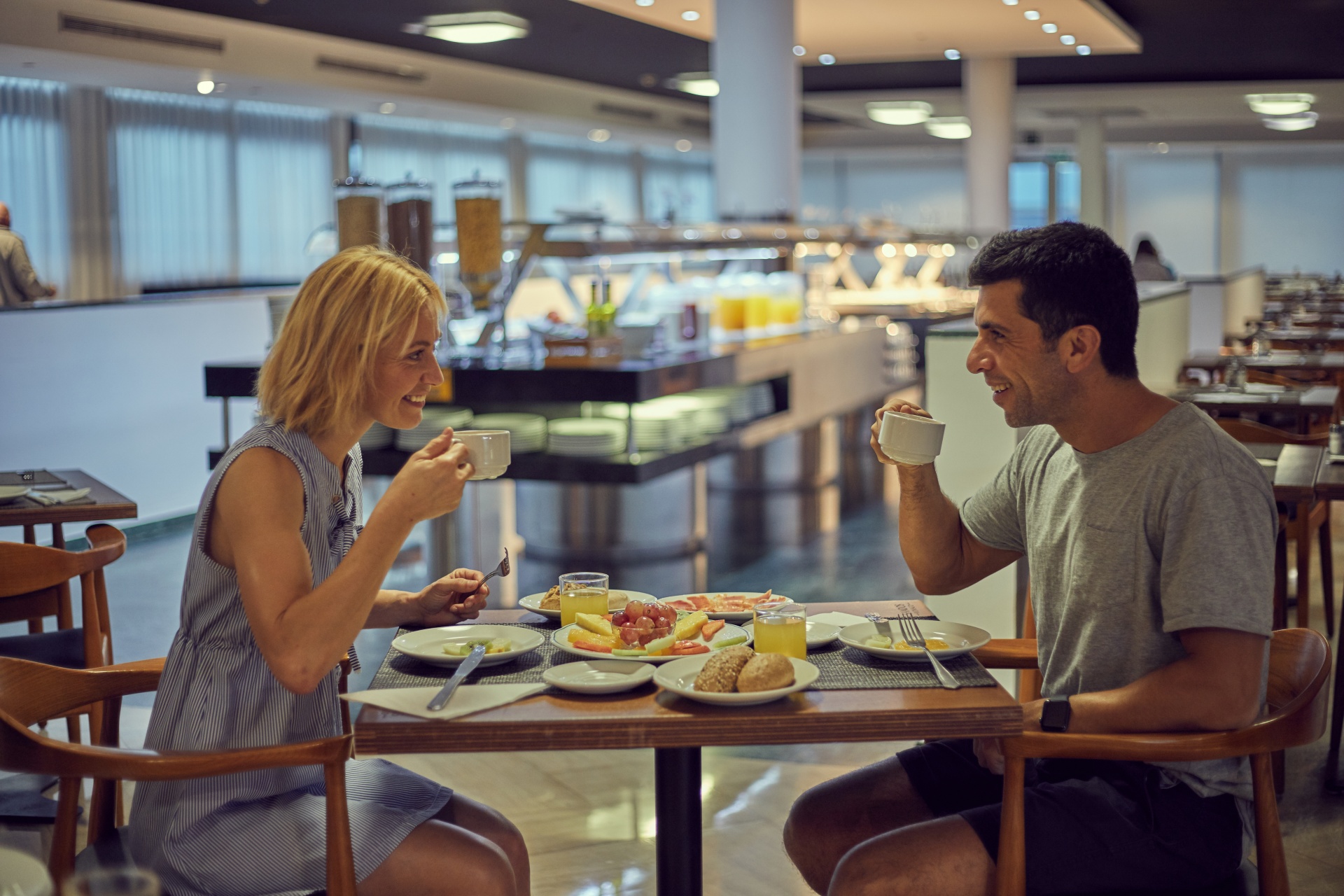 With laid-back style for a casual breakfast, lunch or elegant dinner, our restaurants serves an extensive kinds of international cuisine from across the globe, as well as live cooking stations where our chefs prepare made-to-order dishes right before your eyes. If you are looking for something special don´t forget to visit our a la cart restaurants and taste a very delicious cocktails at our bars.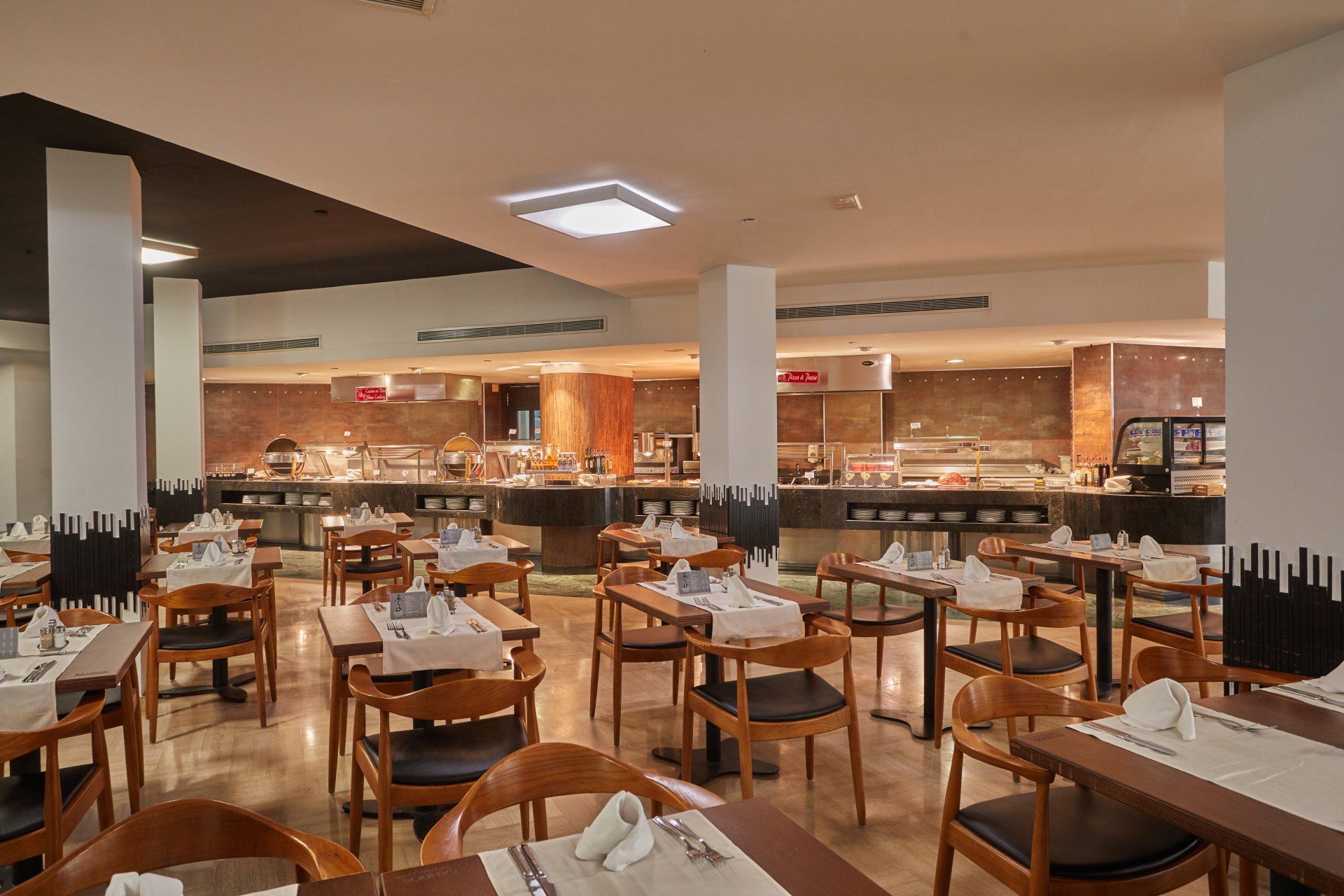 FONTVIEILLE
Want to try different cuisines? Discover them at our buffet restaurant. Come to Fontvieille restaurant, where you will find a buffet of local and international cuisine with a variety of choices, offering show cooking stations, theme nights, and a wide range of dishes every day.
Since we love to take care of you, we also have a corner vegetarian for vegetarians and special diets. We'll even be waiting for you in the morning, the best time to get the strength you need for a wonderful day on holiday with our complete breakfast buffet. It will be our pleasure to ensure that you enjoy your meal.
Cuisine type:
International.
Serving:
Breakfast, Lunch and Dinner.
Opening:
Breakfast: 8:00 - 10:30 a.m.
Lunch: 1:00 - 3:00 p.m.
Dinner: 7:30 - 9:45 p.m. 
Dress Code:
Casual: No wet clothing allowed. Shirt and shoes/sandals required.
Reservation:
Not required.
KHAS MAHAL
An Indian corner in Benidorm
Within your All Inclusive program, you can't miss out on the scents of spices that will make you feel as if you were in India.
At Khas Mahal restaurant, located at Sandos Benidorm Suites, you'll be able to try enticing Indian cuisine dishes once for stays of five nights or longer. Don't forget to book your table at the front desk for an experience that's hard to forget!
1 à la carte dinner at Khas Mahal restaurant for stays of 5 or more nights
Cuisine type
Indian
Serving
Dinner
Opening
Dinner: 7:10 -  9:10 p.m
Closed on Tuesday, Thursday, Friday and Sunday
Dress Code
Smart Casual: No swimsuits and/or wet clothing. Shirt and shoes or sandals required.
Reservation
Reservation required
Restaurant location:
This themed restaurant is located in our neighboring hotel Sandos Benidorm Suites, a 10-minute walk away.
SELECT CLUB LOUNGE
Book the All Inclusive Select upgrade for exclusive services and even more advantages.
If you're one of those travelers who's always searching for the next best thing, you'd be right by thinking that even the best All Inclusive can be even better… and we've done it! Enhance your All Inclusive plan by upgrading to a Sandos Select room. You'll get access to the Select Lounge (+16 years old*), where you'll discover a variety of hors d'oeuvres and Premium drinks, in addition to daily press and an internet corner, all in a modern renovated space. You'll even have an outdoor space reserved for you so you can enjoy the sun.
Cuisine type
Drinks and snacks
Opening
10:00 a.m. - midnight
Dress Code
Casual. Swimwear and/or wet clothing are not permitted. Shoes/sandals and shirt are required.
Reservation
Not required
*Underage select customers must be supervised by an adult at all times.
MONTECARLO BAR
Enjoy the Mediterranean sun with a refreshing drink or a healthy cocktail
Come and experience the relaxed and modern atmosphere at our recently renovated Montecarlo Bar. To get into a holiday state of mind, taste one of our healthy cocktails prepared poolside. During the daytime, you can have fun with activities thanks to our Entertainment Team's program designed to surprise you, like tasting the local drink "horchata". If you're hungry in the evening, we also have a menu of different snacks to satisfy all cravings. This is more than just a bar… Sandos Monaco doesn't disappoint!
Cuisine type:
Beverages and snacks.
Opening:
Summer: 10:00 a.m. - 00:00 a.m.
Dress Code:
Swimwear and/or wet clothing are not permitted. Shoes/sandals and shirt are required.
Reservation:
Not required.
METROPOLE BAR
Take a moment to have an evening drink, relax and have some fun
While you're on holiday, you deserve everything! And we will be delighted to make your time special and unforgettable. Just stop by Metropole Bar and ask us for your favourite drink, or choose between the large choice of cocktails from the menu and our friendly barmen will prepare it for you. While you enjoy it, just sit and relax or come to the Estefania Lounge, connected to Metropole Bar, where you can participate in activities like watching a football match or playing card games with our Entertainment Team.
Cuisine type:
Drinks & cocktails.
Opening:
8:00 p.m. - 00:00 a.m.
Dress Code:
Casual. Swimwear and/or wet clothing are not permitted. Shoes/sandals and shirt are required.
Reservation:
Not required.
SNACK BAR
It's time to recover and get your energy back!
Can you picture yourself lying in a hammock with a drink under the warm Mediterranean sun? Enjoy the swimming pool, the sun and good weather with the All Inclusive experts thanks to a large choice of drinks and cocktails that can be paired with something from the snack menu, like assorted salads or seasonal fruit during the summer, perfect for vitamins and energy! Come to Sandos Monaco and we'll recharge your batteries during the perfect holiday.
Cuisine type:
Drinks and snacks.
Opening:
11:00 a.m -  01:00 p.m
04:00 p.m - 06:00 p.m
10:00 p.m - 00:00 a.m
Reservation:
Not required.