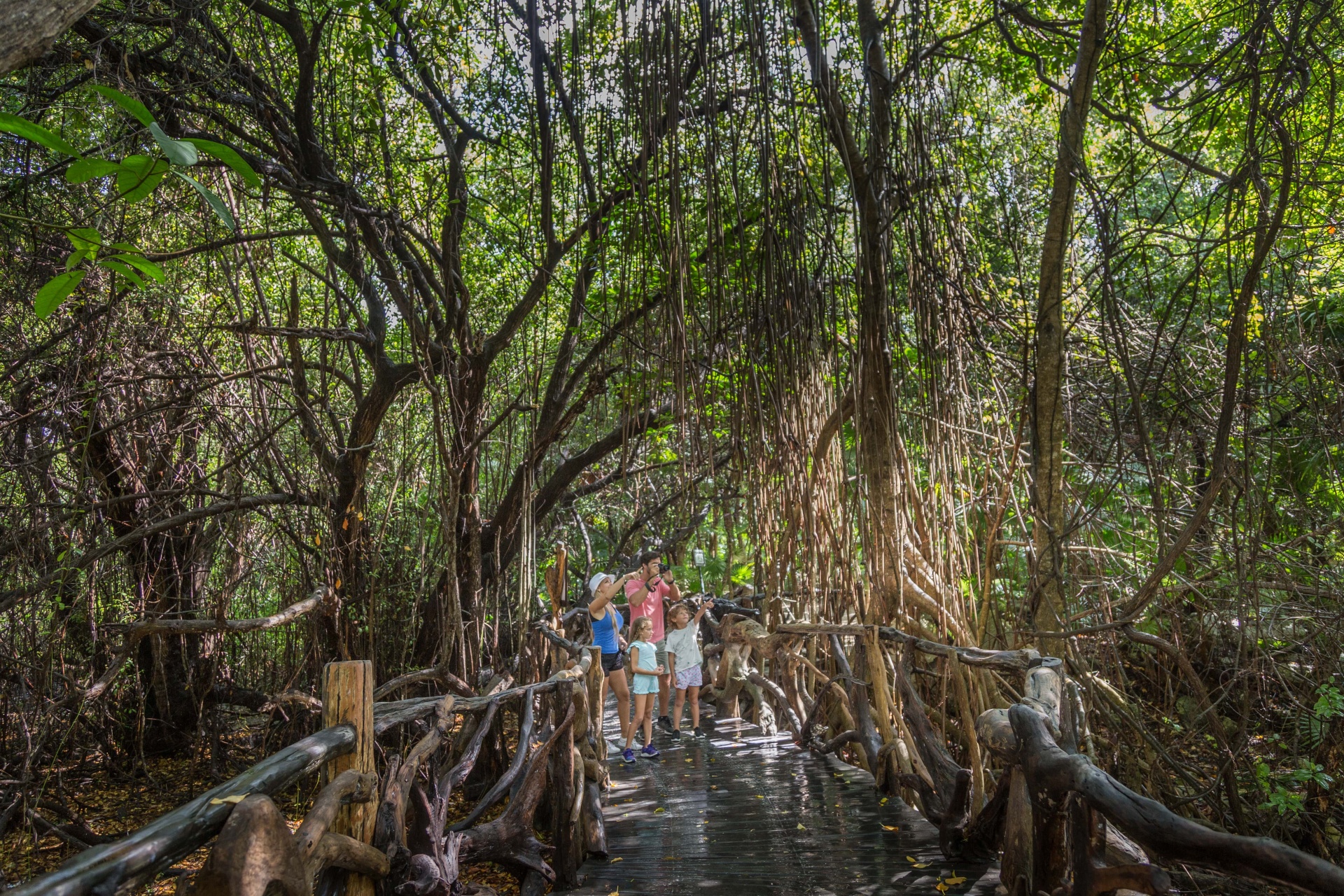 FREQUENTLY ASKED QUESTIONS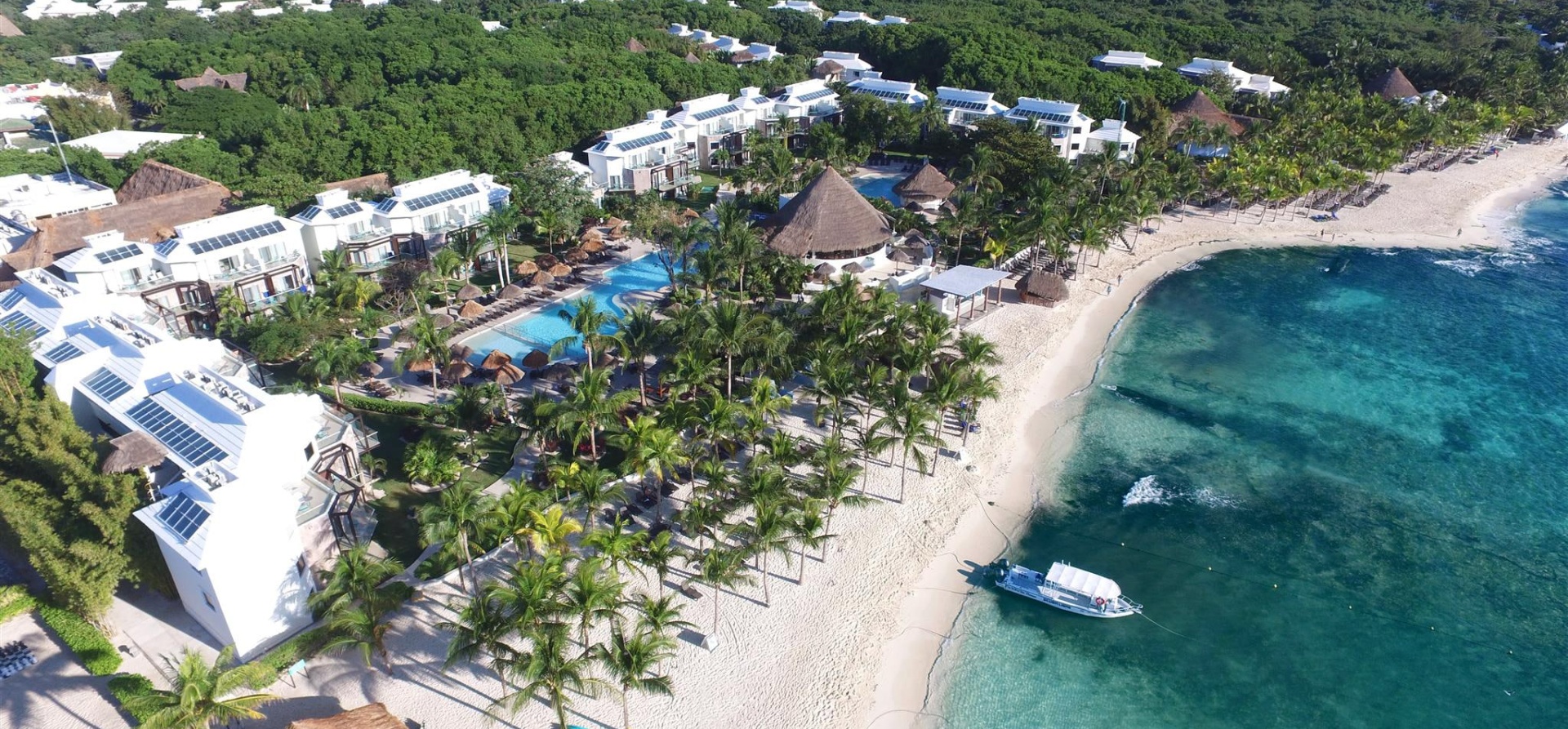 SERVICES & AMENITIES
What does the All-Inclusive Plan Include?
Food and beverage

Unlimited food and beverage


 

Activities

Non-motorized sports

Snorkel equipment half hour a day

Dive lesson in the hotel pool

Eco Activities for the whole family

Tennis court

Gym


 

Entertainment

Entertainment shows and daily activities

Nightly entertainment


 

Services

Additional Services
What is not included?
The amenities and services that are not included in your all-inclusive package are select wines and liquors, private dinners, spa treatments, beauty salon, and external tours from agencies located in the hotel, among other additional services.
What are special measures being taken in the hotel in terms of hygiene and safety to prevent the spread of Covid-19?
At Sandos Hotels & Resorts, we take the safety of our guests and collaborators very seriously. We have implemented a series of hygiene protocols to guarantee a clean and safe environment. To see more detailed information about our procedures, visit our Clean Stay section. 


Do you carry out Covid-19 tests in the hotel?
Yes, we have an agreement at a special rate with Costa Med. For this reason to avoid the displacement of guests, all of the COVID-19 tests are done in the hotel. See here for more details. 
How many rooms does the hotel have?
The hotel has 955 rooms.
What makes Sandos Caracol unique?
At Sandos Caracol Eco Resort, we're proud of who we are and of the ecosystems that surround us. With so much jungle, ocean and mangrove, wonderful things happen every day wherever you look. As an eco-resort, we're committed to nature and Maya traditions, so your stay at Sandos Caracol will be full of experiences, aqua-fun, shows, and cultural events.
If you're a nature lover, you'll be absolutely fascinated by the All-Nature Experience.
What does the Select category include?
Our Select category is designed to satisfy our most demanding guests. You can find here all the benefits of staying in a Select room.
 
Is room service included?
Yes, room service is included.
Is there free wifi at the hotel?
Yes, wifi is free and available in most public areas of the hotel.
Is the safe included?
Yes. We have a digital safe included in each room.
Are alcoholic beverages included in the all-inclusive package?
Alcoholic beverages are included in the all-inclusive packages for guests 18 and over.
Are pool towels included?
Yes, they are included and available in the pool area.
Should I tip employees?
Our all-inclusive plan already considers tips for our collaborators; however, feel free to leave any additional contribution.
Do you have baby amenities?
Yes, we have cradles and playpens for babies; to request one, send an email to [email protected]. Please take into account that there are no strollers, so you should bring your own.
Do you have wheelchairs?
We have wheelchairs, but these are subject to availability. To check availability, send an email to [email protected].
Do you have decoration services for special occasions?
If you want to make your stay even more memorable, you can request special decorations to celebrate your honeymoon, anniversary, birthday, etc, and surprise that special someone. To request a special decoration, please send an email to [email protected] (additional charges may apply).
Can you help me propose?
Yes! We celebrate love! For details about price and planning, please send your ideas to [email protected]
I want to organize a wedding.
Find here the different wedding packages and locations that we have for you.
Can I organize celebrations like birthdays, anniversaries, and honeymoons?
Yes, our concierge team will be happy to help you organize any celebration. You can contact us via email at [email protected]
Where can I find information about spa costs and treatments?
Here you can find the different spa services we offer, as well as their prices.
Does the hotel also work on Sunday?
Yes, we are open every day of the year, 24 hours a day.
Is there parking at the hotel?
Yes, there is parking for guests who drive to the hotel.
Can you pay by credit card?
Yes, you can pay with most major credit cards.
Does the reception work 24 hours?
Yes, we are at your disposal at the 24-hour reception.
How often is room cleaning done?
Our housekeeping department cleans the rooms every day according to the most advanced cleaning protocols. Find here all of our protocols and procedures that guarantee a clean stay at Sandos.
Do you have a babysitting service?
Yes, we have a babysitting service, you can request it with our concierge. This service generates an additional cost and is subject to availability.
Are there hammocks on the beach?
Yes, there are hammocks on the beach as a courtesy of the hotel, available exclusively for the Select Club Adults Only section guests.
What kind of activities does the hotel have for adults and children?
We have a complete entertainment program throughout the year, which includes activities for children and adults. You can check the program here.
What activities and services do you offer outside of the all-inclusive plan?
In addition to the all-inclusive plan, we have services and activities at a cost. You can find the lists of services in the following links: spa, tours and transfers, activities, and water sports.
What is the schedule for the night time shows?
There are fun shows for the whole family, with a different performance for each day of the week. You can see schedules and descriptions here.
 
Do the activities require a prior reservation?
None of our activities or night shows require a reservation. However, if the activity is part of the Kids Club, you need to sign your children up in advance.
Does the hotel have heated swimming pools?
No, we do not have heated pools; however, the water remains warm and is perfect for cooling off.
What is the age to enter the water park?
Our water park is ideal for the whole family. For your safety, the use of the water slides is based on height, no matter what your age.
Does the hotel have a pool bar?
Yes, you can enjoy your favorite drink in the Select pool. Or you can order your drinks to the waiter and enjoy them beside the pool.
Where can I find laundry services?
The hotel offers laundry service at an extra cost. You can dial our operator to request it.
Does the hotel have air conditioning?
Yes, all of our rooms have air conditioning.
Do the rooms have English TV channels? 
Yes, we have some channels in English. You can ask for the available TV channels with  reception.
Does the hotel have stores?
Yes, within our facilities we have convenience stores where you will find basic necessities, as well as souvenirs.
Do you have rooms with a computer?
We do not have computers in the rooms or in the hotel areas. However, our wifi network is available in common areas.
Do the hotel offer stroller and wheelchair rentals?
Yes, we have wheelchairs and strollers at the hotel. If you require it, please contact our concierge department.
Does the hotel offer a microwave oven rental?
No, we do not have microwave oven rentals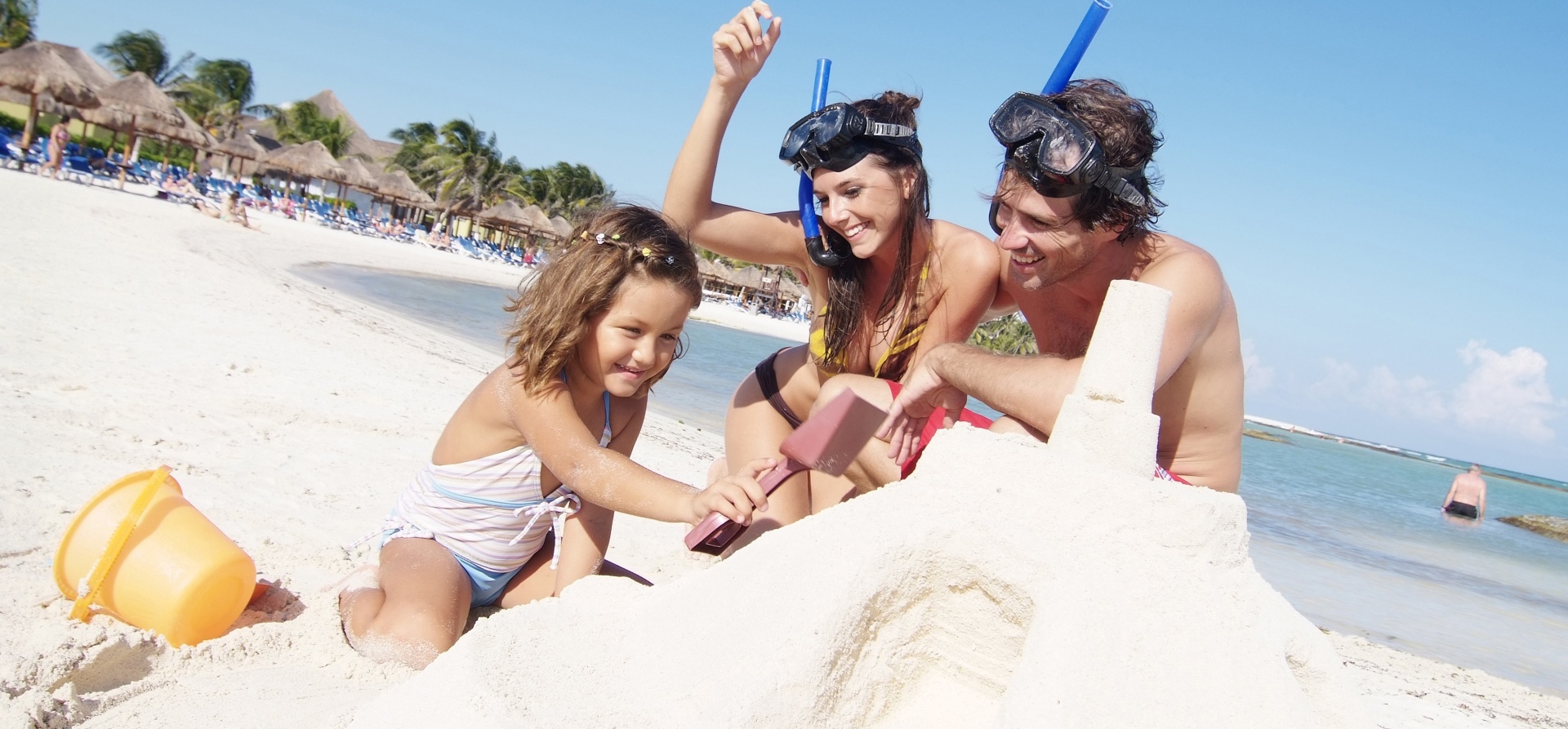 BOOKING QUESTIONS
How can I confirm an indirect reservation?
Contact the travel agency or the channel through which you booked to confirm.
Does the reservation include taxes?
Yes, all taxes are included at the time of booking.
How can I cancel a reservation?
You can cancel a reservation in the My Reservation section of our website sandos.com, or through our call center.
How can I add another person to my reservation?
Contact our call center or your travel agency.
What is the check-in time?
Check-in is at 3 pm. However, you can arrive at the hotel earlier and wait for your room to be ready.
What is the check-out time?
You must be out of the room at 12 pm. Late checkouts are subject to availability.
Are there discounts for seniors?
At this time we offer a discount for travelers over 55 years old.
Are the hotel and rooms adapted for people with disabilities?
Yes, the hotel is accessible to people with disabilities. Please indicate that you are accompanied by people with disabilities when making your reservation.
Are there bathrooms with a spacious shower?
Yes, each room is equipped with a spacious shower.
How many sections does the resort have?
Three: the Family section, the Select Club Adults Only section, and the Royal Elite section.
I am a frequent customer, can I have a discount?
Of course, once you have completed your registration in our Sandos4U loyalty program, you will be able to exchange your points for rewards and discounts on your next bookings.
If I need to leave comments about my experience at the hotel, who can I contact?
At Sandos, we will always be very grateful for your opinions and feedback as they allow us to grow and provide you with a better experience each time you visit us. You can send us your comments to the email [email protected]
I need a late check-out
You can communicate directly to our call center to request it. Late departures have an additional cost according to the category reserved and are subject to availability.
If I am staying at Sandos Caracol, can I visit Sandos Playacar and vice versa?
It usually is possible to visit Sandos sister properties at the destination; however, due to health contingency, this service is not available at the moment.
What are the measurements of the rooms?
You can check all the details of our rooms here.
Does the hotel accept pets?
For safety and hygiene reasons, the hotel does not accept pets.
If I travel in a group, can I have connecting rooms or rooms together?
We recommend you indicate this request when making your reservation. Our team will do everything possible to accommodate your request; however, it is subject to availability.
How much does it cost, and what should I do to get a room upgrade?
Room upgrades can be made directly at the hotel reception, subject to availability, and their cost varies according to the category booked.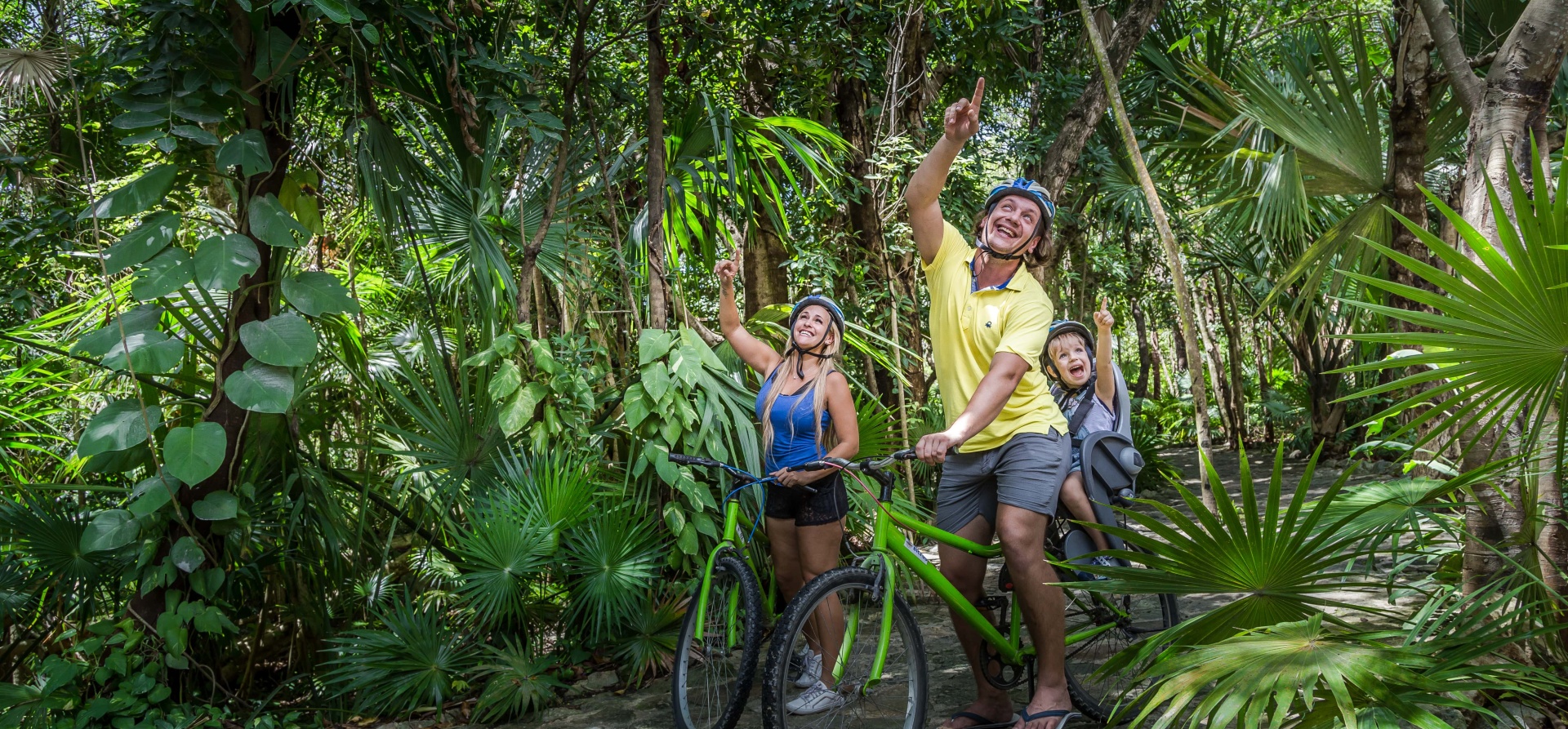 TRAVEL & PACKING TIPS
What do you recommend I should pack?
It depends on the season in which you visit us, but in general we recommend you bring beachwear and accessories such as:
Water shoes
Trekking shoes
A light cap or hat
Sunglasses
Snorkel mask
Biodegradable sunscreen and repellent
Power adapter (220 to 110 volts)
Plus, we recommend you pack smart casual clothes for à la carte restaurants and a light jacket. See some packing tips here.
Can I pack something extra to help local communities?
Yes! Thanks to the Pack for a Purpose program together with the Sandos Foundation, our guests are able to bring with them some needed items which will be donated to local kids and their families to help them improve their living conditions. You can learn more about the Pack for a Purpose program as well as find a list of the most needed items here.
How is the weather at the destination usually?
Fortunately, in the region, we have a warm and sunny climate most of the year, perfect for having fun on the beach. Find here all the details about the weather during the year and the perfect time to visit.
What is the hotel beach like?
The resort is located on one of the best fine sand beaches in the destination.
Are there mosquitoes, and how does the hotel deal with them?
We are in an area of ​​great vegetation and fauna, so it is common to have mosquitoes. The hotel fumigates every day with environmentally friendly products in order to keep them as far away as possible from our guests.
At what age is considered an adult?
In Mexico, the age of majority begins at 18 years of age.
What currency should I travel with?
The stores accept Mexican pesos (MXN) and mostly US dollars (USD). Also, in some cases, they can accept euros (EUR).
Can I pay with a debit or credit card?
Yes, we accept most major credit and debit cards.
Are there ATMs in Playa del Carmen?
Yes, you can find ATMs in the city center, both in US dollars (USD) and in Mexican pesos (MXN).
Is it safe to exchange money at the exchange houses?
Yes, it is safe. We recommend you attend well-established exchange houses and check other users' opinions on social networks or the internet about the place.
What are cenotes?
Cenotes are natural wonders made up of bodies of water formed below the rocky surface, very common in the Riviera Maya. Find here the most beautiful ones to complement your visit to the area.
What are the best archaeological sites to visit?
The Yucatan Peninsula, and in general all of Mexico, has a large number of archaeological sites of different cultures and historical periods. Here we give you a brief guide to deciding which ones are the best to complement your visit.
How do I get to Cozumel?
To get to the island of Cozumel, you need to go to the center of Playa del Carmen, from where the ferry departs. It will take you about 45 to get to the island.
Are there parking lots in Playa del Carmen?
Yes, the city has very accessible parking lots and has prepaid parking meters installed in all the central streets.
Is it advisable to go diving in the area?
Diving in the Riviera Maya is one of the most fun and requested activities by lovers of this sport, since not only can you dive in the open sea, but it is also possible to practice underground diving. Learn more about this activity and how to practice it here.
Will my phone work while I'm in Mexico?
In Mexico, practically all telephone networks work; however, we recommend that you verify the service and charges with your provider before traveling.
To go shopping, is it necessary to go to Cancun?
No, in Playa del Carmen, you can find a wide variety of shops, shopping centers, and even artisan boutiques unique to the destination.
Do I need to speak Spanish?
Although coming to Mexico can be a great opportunity to practice Spanish, you don't need to speak it as most of our collaborators speak English very well
TRANSPORTATION & LOCATION
How do I get to the hotel?
When leaving Cancun International Airport, you must take the Cancun-Tulum / Mexico 307 Highway for 29.01 miles and then turn left into the Grand Coral complex located at Kilometer 294. Along the way, you'll see multiple signs indicating the right direction to the hotel. Once inside the Grand Coral complex, keep straight along the main road and take a left at the first roundabout. Head down this road and you will find the hotel on your right.
Does the All-Inclusive package include transportation?
Our hotel does have a transportation service; however, this has an additional cost and is made through the Seek N Go travel agency. Reserve by sending an email to [email protected] or call the following numbers:
From the Americas - Mexico 01 800 907 52 92
From the Americas - USA 1 866 336 40 83
From Europe - Spain +34 971 78 33 02
From Europe - UK +44 20 305 137 68
How far from the city center is the hotel?
The hotel is located just 4 kilometers from downtown Playa del Carmen. You can book your transfer with our Seek & Go team for your convenience, or if you prefer, we have a taxi stand at the door of the hotel.
Where can I find the hotel map?
You can download the hotel map here.
Does the hotel have stores?
Yes, within our facilities we have convenience stores where you will find basic necessities, as well as souvenirs.
Is it safe to board taxis?
At the hotel, we have a very secure taxi stand as we check the vehicles at the complex entrance and exit.
Is it safe to leave the hotel?
Yes, it is safe to leave the hotel, both to the city center and to the entertainment and nightlife centers. However, we ask our guests to leave at their own risk. We recommend you come to our Seek & Go office, where you will find completely safe excursions and transfers from the hotel door.
Car rental
There is a car rental service that can be booked at the drop-off point or in the lobby.
Can I use the Uber app during my vacations at the Riviera Maya?
No, currently Uber's service is not working in the state of Quintana Roo.
How can I book transfers?
You can book a transfer at http://seekandgo.mx/, by phone, or by email directly with our call center.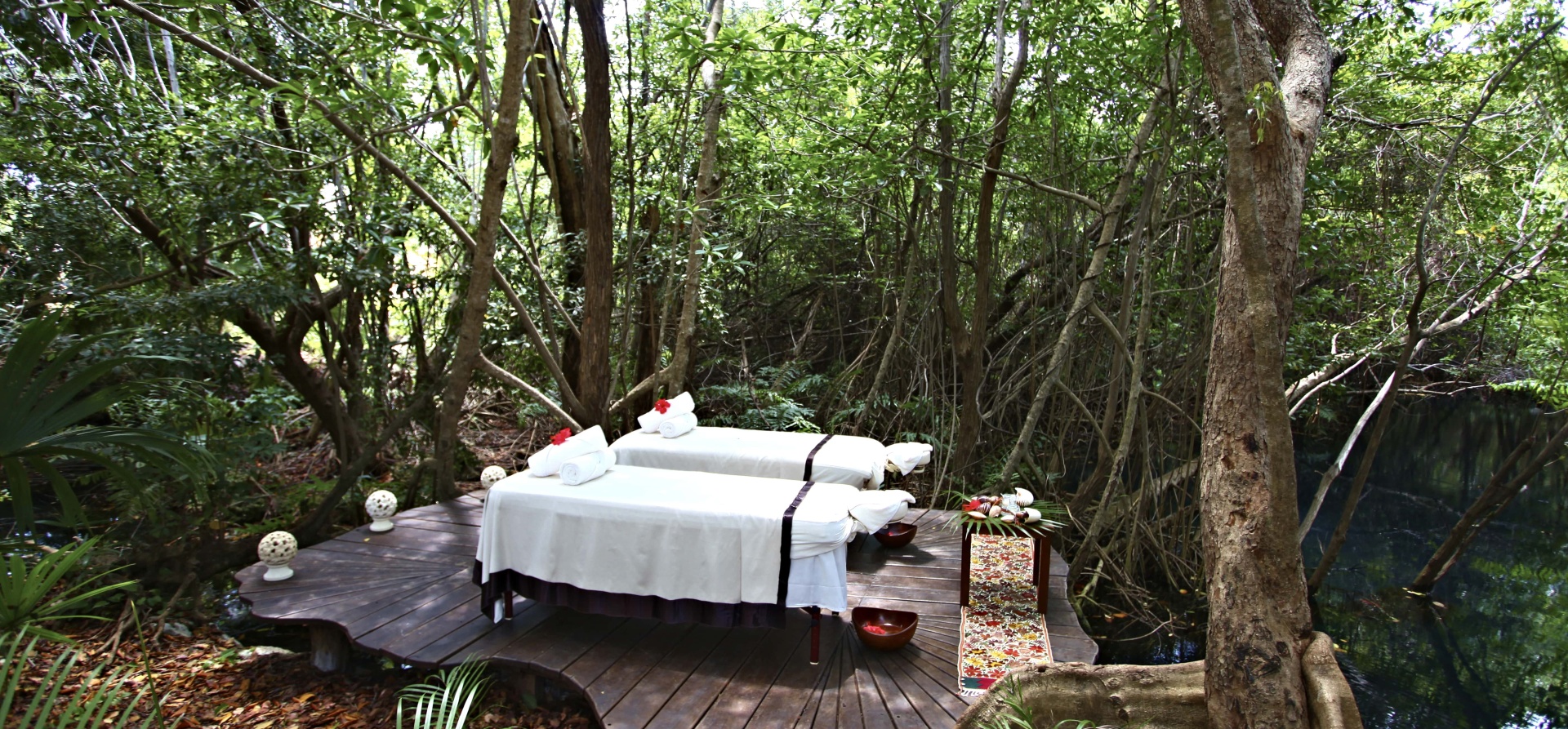 BARS & RESTAURANTS
How many restaurants are there in the hotel?
We have nine restaurants in the hotel, with options available for breakfast, lunch, and dinner. We have a buffet, à la carte, or snack-style options, and we also offer 24-hour room service. Click here to check out all of our restaurants.
Which restaurants require a reservation?
Due to the sanitary contingency, special measurements have been taken by restaurants to avoid big crowds. Review restaurant opening hours here
I have allergies and/or eating restrictions. What options are there for me?
We have a selection of food for people with allergies and/or food restrictions, so we ask you to please, in addition to notifying us when you check in to the hotel, notify your waiter so they can show you the options available for you.
Is there a dress code in restaurants?
Yes, there is a dress code in each of the restaurants. Check the QR code upon arrival to verify the dress code in each restaurant.
Are there gluten-free food options?
Yes, each gluten-free option is clearly detailed in the restaurants. Please notify the reception of all your food restrictions at the time of check-in.
Do restaurants offer vegan options?
Yes, ask your waiter what the vegan options are at each of the restaurants.
What are the restaurant hours?
Hours vary by the restaurant; however, you will always find a restaurant available for breakfast, lunch, dinner, or snacks.
What is the cost of food and drinks in restaurants?
All food and drinks are part of the all-inclusive plan.
KIDS CLUB***
¿Cuentan con kids club en el hotel?
Sí.
¿Aceptan niños de todas las edades?
Nuestro Kids Club es un espacio diseñado especialmente para los pequeños, y está disponible para niños de 4 a 12 años de edad.
Mi hijo es menor, ¿eso significa que no puede ingresar?
Los niños de 2 y 3 años pueden acceder a las instalaciones únicamente en el horario de 10:00 a 13:00 horas y de 15:00 a 18:00 horas, siempre acompañados de uno de sus padres o tutor.
¿Existe alguna restricción en el horario para registrar a los niños en el kids club?
Sí, el horario para registro es de 10:00 a 11:00 horas, mientras que la admisión de niños es de 10:00 a 22:00 horas, siempre y cuando ya se encuentren previamente registrados.
¿Hay alguna restricción para la admisión de niños en el kids club?
Sí, por su seguridad y la de los demás, no se admiten pequeños que presenten fiebre, diarrea, vómito o alguna enfermedad infecto contagiosa, mientras que los niños con necesidades especiales o alguna discapacidad deberán estar acompañados de un padre o tutor en todo momento.
Mi hijo padece algunas alergias, ¿qué debo hacer?
Los padres tienen la responsabilidad de informar al personal del Kids Club sobre las alergias del pequeño, si padece alguna enfermedad de cualquier tipo, o si está tomando algún medicamento que pueda alterar su conducta.
¿Pueden suministrar medicamentos a mi hijo en mi ausencia?
El personal del Kids Club no está autorizado para suministrar algún medicamento.
¿Puede mi hijo ingerir alimentos durante su estancia en el kids club?
No, en el Kids Club no se administran alimentos, por lo que el menor debe llegar bien alimentado.
Durante su estadía en el kids club, ¿los niños permanecen todo el tiempo dentro?
No, en el programa del Kids Club hay actividades al aire libre, por lo que pedimos a los padres o tutores de los niños aplicarles bloqueador solar antes de entregarlos. El personal del Kids Club no está autorizado a aplicar cremas o protector solar.
¿Qué pasa si un menor muestra una conducta indebida?
En caso de que cualquier niño muestre una conducta indebida, violenta o que se perciba como riesgo para otro niño o para el personal del Kids Club, el hotel interrumpe la visita del menor al Kids Club y avisa a los padres de manera inmediata, al tiempo que se reserva el derecho de admisión.
AQUA PARK
¿Cuál es la estatura requerida para cada área?
Para tu seguridad, el uso de los toboganes está basado en la altura, sin importar la edad. Los toboganes medianos para los niños, requieren un mínimo de 1.10 mts de altura (3 pies 7 pulgadas) y máximo de 1.40 mts (4 pies 7 pulgadas). Los toboganes grandes para los adolescentes y adultos requieren una altura mínima de 1.40 mts (4 pies 7 pulgadas). Los huéspedes más pequeños encontrarán un mundo de diversión en el Aqua Park para niños, con mini toboganes y mucho más, siempre con la supervisión de un adulto.
¿El parque acuático es parte del plan todo incluido?
Sí. Todos nuestros huéspedes tienen acceso al Aqua Park sin costo extra.
¿Cuál es el horario del parque acuático?
 El área de niños pequeños del Aqua Park está abierta de 9:00 a.m. a 6:00 p.m. La zona de toboganes está abierta de 10:00 a.m. a 5:00 p.m.
¿Talaron parte de la selva o el manglar para construir el parque acuático?
La construcción del nuevo Aqua Park no afectó ninguna área de selva o manglar del resort. La nueva zona de toboganes se construyó sobre un área libre y limpia, y las pocas palmeras que originalmente se encontraban ahí, fueron movidas a otras áreas de la propiedad. Sandos Caracol Eco Resort está comprometido con la preservación del medio ambiente y con minimizar nuestra huella de carbono. ¡Siempre nos esforzamos para ofrecer vacaciones sustentables a todos nuestros huéspedes!
¿Es obligatorio usar traje de baño?
 Para poder disfrutar de la diversión en el agua, requerimos que se utilice traje de baño, sin importar el estilo (como manga larga), y descalzos, ya que los zapatos, aunque sean específicos para el agua, pueden dañar la infraestructura del lugar y/o lastimar a alguien.
¿Cuentan con seguridad en el parque acuático?
Por la seguridad de todos, contamos con personal con conocimiento en primeros auxilios y guardavidas certificados.
¿Puedo entrar al parque acuático con mi cámara/celular/accesorios?
En la zona acuática no se permite entrar con cámaras, celulares ni accesorios, aunque estos estén adaptados para el agua, pues pueden perderse y/o lastimar a alguien. Si quieres tomar fotos y videos, no te preocupes, tenemos un lugar destinado para ello en las albercas.
¿Puedo ingresar con bebidas alcohólicas de otras zonas del resort?
Al ser un área familiar enfocada hacia los niños, el Aqua Park es un espacio que nos gusta mantener libre de humo y alcohol.
¿En qué casos cierran el parque acuático?
 Por seguridad de todos nuestros huéspedes, el parque acuático se cierra cuando hay tormenta eléctrica (aunque no haya agua) y durante fuertes lluvias.