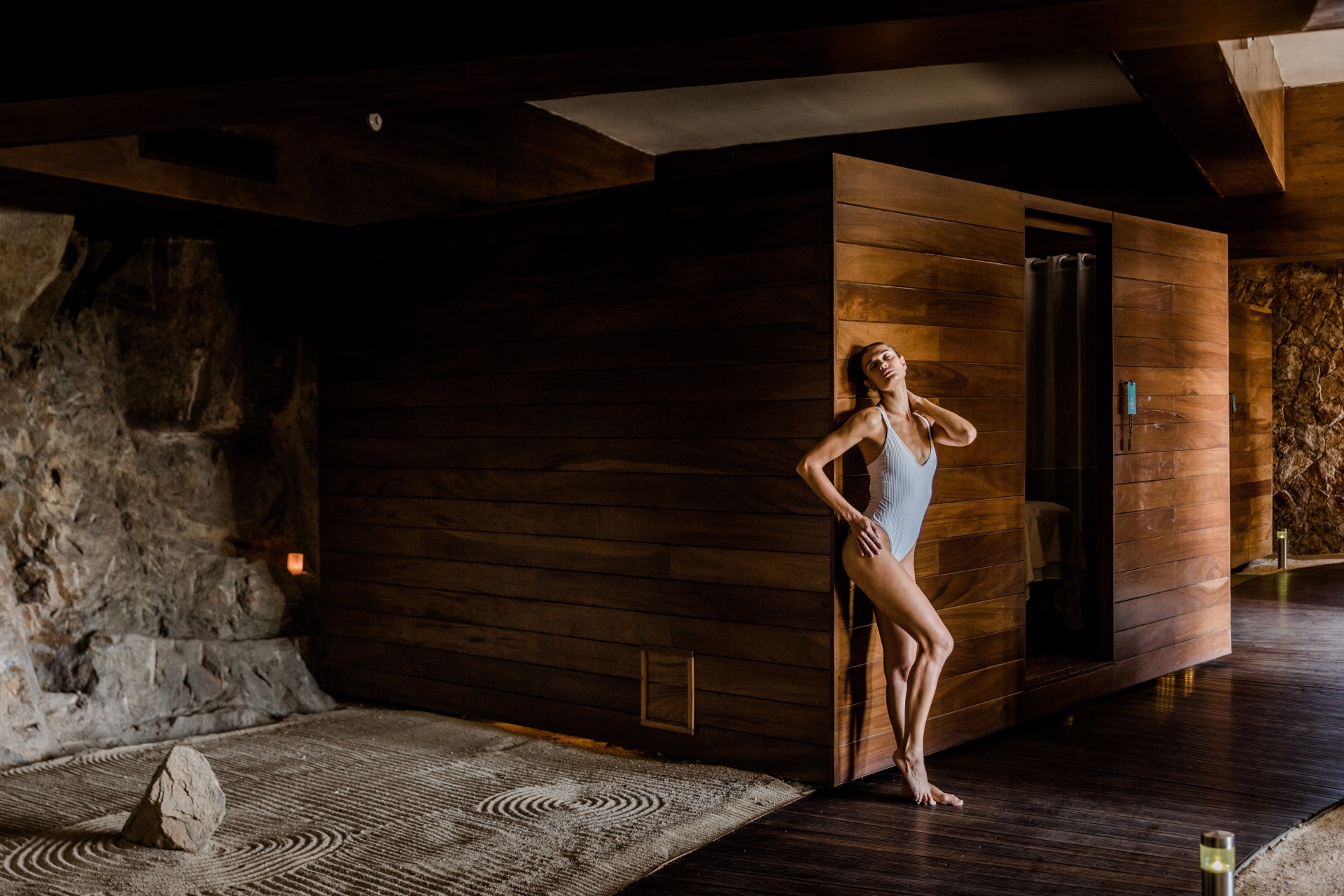 MASSAGES
Spa del Mar features a variety of massage options, incorporating a blend of techniques like reflexology, aromatherapy and hot stones to help you achieve true balance and wellness while enjoying a state of bliss.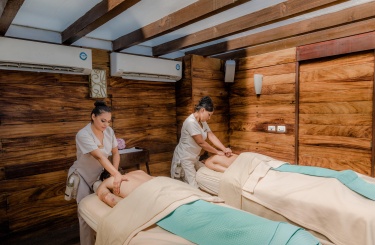 Relaxing50'/80'
Consider this gentle pressure massage when you need pampering. The repetitive motions relieve your tension and tiredness. The unique technique improves blood circulation and improves the oxygenation of your internal organs, releasing stress.
Aromatherapy 50'
The perfect synergy of essential oils and soft hand movements will help to balance the mind, body and spirit. This comforting massage helps calm the mind and relieve stress.
Prenatal 50'
We can help relieve your pregnancy-related discomforts with a special massage made just for you. Slow surface level movements improve circulation, which helps with liquid retention and provides deep relaxation. This special massage also helps to reduce pressure on your legs and relieves body fatigue.
Deep Tissue 50'
This  deep muscle tissue massage targets tension points and muscle spasms. Along with stretching and acupressure, this signature massage also treats chronic muscular fatigue.
Reflexology 30'
In reflexology therapy, pressure is locally applied on reflex points in the feet, connecting with different organs in the body, helping to achieve balance.
Drainage 80'
This massage is highly recommended after a long journey. We stimulate the lymphatic system to improve your circulation, leading to the elimination of toxins and liquid retention, especially in the lower legs. This helps in the prevention and/or appearance of varicose veins.
Hot Stones 80'
Imagine the warm delight of a holistic treatment using hot stones. Harmonizing your body, stones are placed on your energy points known as "chakras" while relaxing movements oxygenate the blood.
Therapeutic 80'
Allow us to target your own special needs with this therapy designed just for you. We are skilled with lower back and sciatica pain, as well as neck and hip problems. You help design your own program with your therapist. Pain will be relieved, and your body will thank you for it.
Sandos Special 80'
Our 80-minute Sandos Special is a fusion of different therapies like acupressure, stretching, foot reflexology, and aromatherapy, combined with a relaxing massage technique designed to recover energy and well-being.
THE WORLD AT YOUR FEET


 
Shiatsu Zen-Sation80'
A Japanese technique based on hand-applied pressure to diverse points of the body known as "Zen Energy Meridians", as well as foot reflexology and joint movements to achieve balance between the physical body and energy flow.
BODY TREATMENTS
Our body treatments and wraps at Spa del Mar utilize natural ingredients like cocoa or aloe vera, resulting in a soothing experience for your skin and your entire body. Feel refreshed and renewed for the rest of your vacation.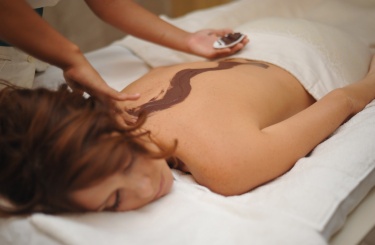 D-STRESS 60 MIN  (OXYGEN·HYDRATION·DISCONNECTION)
 
A luxurious oxygen therapy for the face and back; a treatment that not only detoxifies and moisturizes those specific areas but also relaxes and brings a great sense of balance and well-being.
RECOVERY 60 MIN  (CALMS · STRENGTHENS · RESTORES)
If your affected or irritated skin needs a comforting ritual, try this recovery treatment for face and back that soothes and relieves damaged or hypersensitive skin, while reducing inflammation.
REJUVENATE 60 MI  (LIFTS · FIRMS · REVITALIZES)
Put your best face forward with this intensive age defying treatment using a powerful combination of amino acids and other key nutrients that defy aging skin. A rejuvenating treatment for face and back that will leave skin revitalized and firm.
RECHARGE 60 MIN  (FIRMS · REVITALIZES · BRIGHTENS)
Recharge your skin with the benefits of pure vitamin C. Enjoy a powerful infusion of antioxidant properties in a true sensory treatment for face and back.
FACIAL TREATMENTS
A variety of specialized treatments for each type of skin with a maximum level of personalization and achievement of results. From basic hydration to the highest anti-aging technology with shock effect results!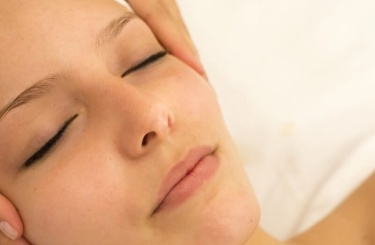 THE O2 RELAX 60 MIN  (PURIFIES · BRIGHTENS · BALANCES)
Awaken your skin with the revitalizing power of pure oxygen, which cleanses, brightens and clarifies a dull complexion. Perfect for frequent fliers and urbanites whose skin suffers from everyday aggressors.
THE SKIN COMFORT 60 MIN  (SOOTHES · COMFORTS · CALMS)
Pamper and comfort your skin with an exclusive combination of botanical ingredients to soothe sensitized or altered skin. This calming facial is the perfect solution to hypersensitivity and rosacea.
THE CITRUS ESSENCE 60 MIN   (REVITALIZES · STIMULATES · FIRMS)
Immerse your skin in the antioxidant power of vitamin C. This nutrient-rich treatment engages the senses, stimulates the production of collagen, reduces inflammation and intensely hydrates. Show off incrediblyradiant skin!
THE CURE 60 MIN  (DETOXIFIES · RESTORES · HYDRATES)
A true antidote against the ravaging effects of our modern lifestyle on our skin. This deeply cleansing facial includes an innovative enzymatic detox, a steam to open and purify pores and a meticulous extraction process, for extraordinarily soft, radiant skin.
THE 3D COLLAGEN SHOCK 60-90 MIN  (SCULPTS · FIRMS · TIGHTENS)
Remodeling and firming treatment with three types of collagen of different molecular weights (high, medium and low), that sculpts and defines facial contour, improves skin density and preserves moisture. This innovative facial provides an outstanding lifting and firming effect for incredibly supple and plump skin.
RITUALS
Indulge in treatments and massages from across the world, incorporating ancient techniques such as acupressure, stretching and meditation to enhance your body's flexibility and energy flow.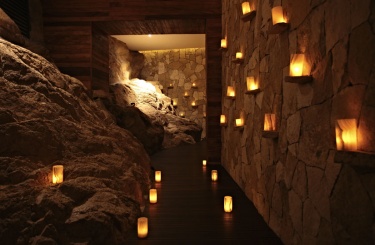 DIAMOND EXPERIENCE ROSE MASSAGE 60-90 MIN  (RESTORES · NOURISHES · RELAXES)
Take a journey through an unprecedented sensory experience. A smoothing and nourishing exfoliation followed by a regenerating massage with the exquisite fragrance of Damask rose oil. Enter a complete state of relaxation and well-being.
ROYAL OXYGEN RITUAL 90 MIN   (DETOXIFIES · PURIFIES · HYDRATES)
Oxygenate your skin with an intensely hydrating and detoxifying ritual for face and body that treats spots and restores balance. Ideal foreveryurbanite!
ROYAL CITRUS RITUAL 90 MIN   (REVITALIZES · NOURISHES · PROTECTS)
Drench your skin in an intensely hydrating firming C+C ritual for face and body. This revitalizing ritual includes an exfoliating citrus wrap and a soothing antioxidant facial. The treatment is completed with a luxurious application of body cream.
DIAMOND ROSE ENERGY RITUAL 120 MIN   (RENEWS · REGENERATES · REDEFINES· REJUVENENATE)
A full ritiual for that special day that starts enveloping your senses in an exquisite Damasc rose fragrance that will leave the skin on your body spectacularly smooth and glowing. Followed by an energizing facial treatment that redefines the face contour, recuperates elasticity, evens the skin tone and visibly improves its texture.
guide your experience in this way of well-being.
PACKAGES
With the relaxing spa packages at Spa del Mar, you can combine our best and most exclusive treatments into a custom spa experience that you'll remember long after your vacation.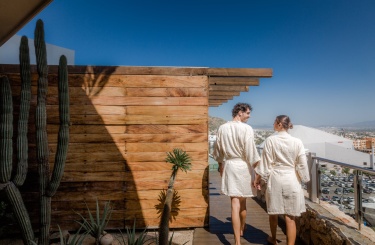 BAMBOO SCRUB 60 MIN   (EXFOLIATES · STIMULATES · SOFTENS)
Exfoliate your body and pamper your senses with bamboo micro-fibers that soften and remineralize your skin. You'll leave the treatment room with renewed vitality and firmer and intensely hydrated skin.
CITRUS SCRUB 60 MIN   (EXFOLIATES · REVITALIZES · FIRMS)
A sensory ritual that polishes skin with highly effective exfoliating agents. This powerful citrus treatment eliminates dead skin cells for extraordinarily radiant and protected skin.
LUZ DE LUNA
A romantic couple's experience where the ocean waves, the moonlight and the stars are the perfect backdrop for an unforgettable date. Enjoy an exclusive relaxing massage that will bring you into a state of balance, rest and tranquility.
A MAGICAL SPA WORLD WHERE OUR KIDS CAN INDULGE AND RELAX
UNDER THE SEA SPA
We're waiting for you at Spa del Mar to pamper you while you spend some quality time with Mom or Dad.
Take advantage of your vacation to fully enjoy time as a family and share a unique experience together at Spa del Mar. A family spa day will make you feel closer and even more relaxed.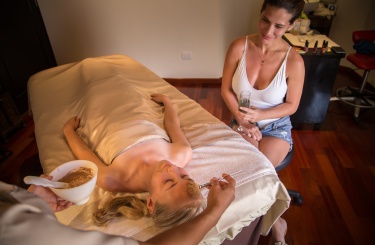 SPA BENEFITS FOR KIDS
Eliminates stress in children.
Helps their psychological development, changes behavioral patterns, reduces fear thresholds, etc.
Stimulates memorization and learning processes.
Activates the gastrointestinal system and the immune system.
Favors lymphatic and blood circulation; stimulates the contribution of oxygen to effectively clean the circulatory system.
Back and shoulder massages help to regulate the respiratory system.
Tones the muscular system.
TREATMENTS
MERMAID & SHARK 25'
MASSAGE
On a soft bed, just steps from the ocean or inside a fun cabin, we'll use delicious-smelling oils for your massage. Relax and immerse yourself in an imaginary underwater world.
DOLPHIN 25'
BODY WRAP
A body treatment that cleanses, hydrates, and relaxes your skin to the fullest, giving it a natural glow. Renew your skin just like dolphins so you can keep going at top speed.
TURTLE 25'
FACIAL
A refreshing mini facial that maintains the skin's natural moisture and protects it with delicious fruit extracts, just like the turtles protect their skin with their shell.
CRAB 25'
MANICURE
Give your hands the gift they deserve!
Delicate exfoliants and fruit masks, along with crab-themed finger separators, will be the best way to indulge and look great on your vacation.
CROCODILE 25'
PEDICURE
Say goodbye to crocodile feet as you enjoy our fruit masks and exfoliants. You can play with colors to make your treatment even more fun.
JELLY
BRAIDS
Fun designs and colorful gems so you can look radiant on your vacation.
One braid
Braids half-head
Braids full-head