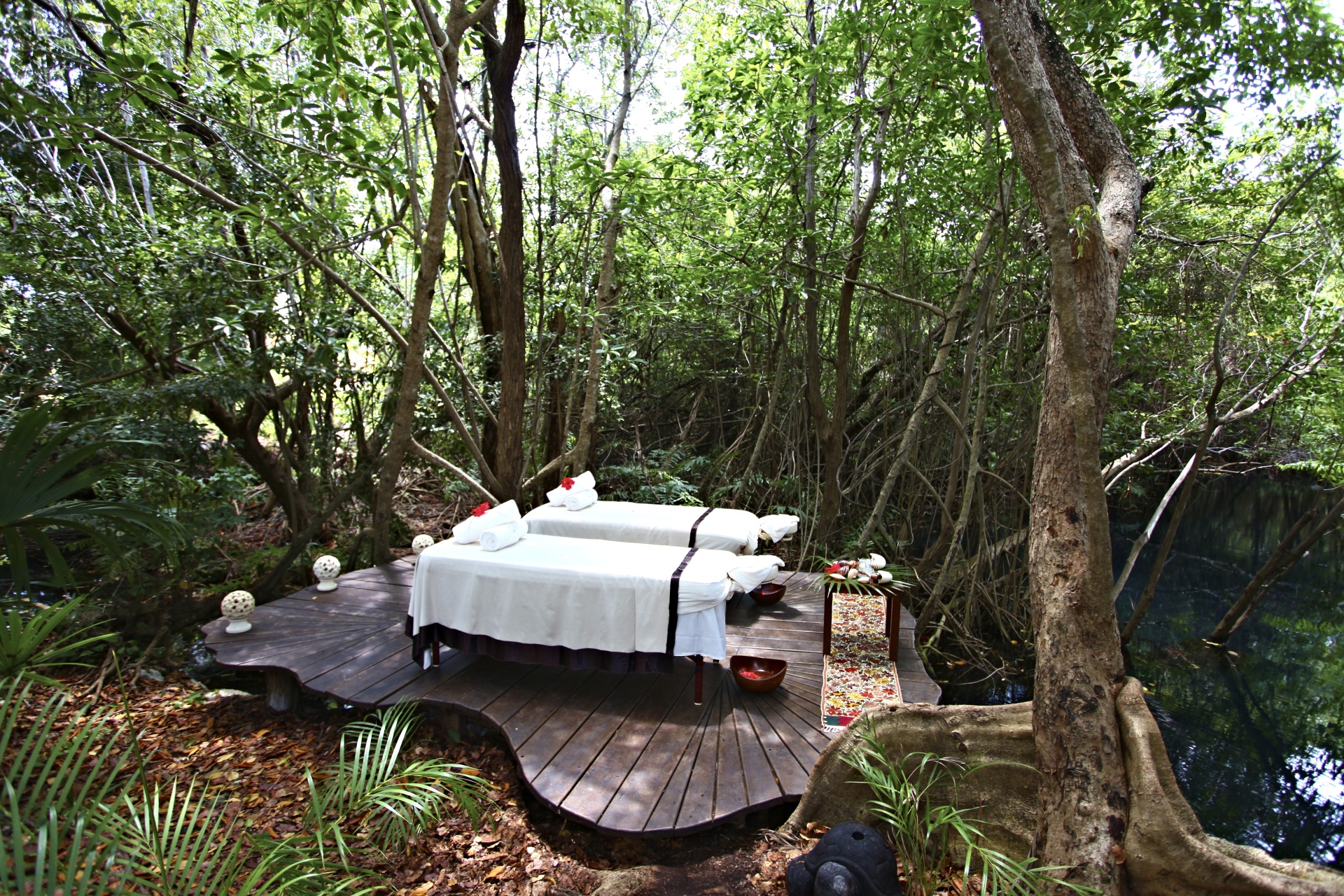 MASSAGES
Time classics but essentials, in an environment of soft musical notes and exquisite aromas. Our certified therapists will take you to complete relaxation.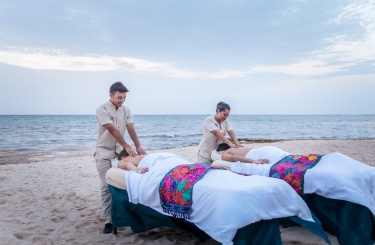 MASSAGE RITUALS
RELAXING 50'/80'
Consider this gentle pressure massage when you need pampering. The repetitive motions relieve your tension and tiredness. The unique technique improves blood circulation and improves the oxygenation of your internal organs, releasing stress.
AROMATHERAPY 50'/80'
The perfect synergy of essential oils and soft hand movements will help to balance the mind, body, and spirit. This comforting massage helps calm the mind and relieve stress.
PRENATAL 50'
We can help relieve your pregnancy-related discomforts with a special treatment made just for you. Slow surface level movements improve circulation, which helps with liquid retention and provides deep relaxation. This unique massage also helps to reduce pressure on your legs and relieves body fatigue.
DEEP TISSUE  50'/80'
This deep muscle tissue massage targets tension points and muscle spasms. Along with stretching and acupressure, this signature massage also treats chronic muscular fatigue.
REFLEXOLOGY 30'
In reflexology therapy, the pressure is locally applied to reflex points in the feet, connecting with different organs in the body, helping to achieve balance.
DRAINAGE 80'
This massage is highly recommended after a long journey. We stimulate the lymphatic system to improve circulation, leading to the elimination of toxins and liquid retention, especially in the lower legs. This massage helps in the prevention and appearance of varicose veins.
HOT STONES  80'
Imagine the warm delight of a holistic treatment using hot stones. Harmonizing your body, stones are placed on your energy points known as "chakras" while relaxing movements oxygenate the blood.
THERAPEUTIC 50'/80'
Allow us to target your own special needs with this therapy designed just for you. We are skilled with lower back and sciatica pain, as well as neck and hip problems. You help design your own program with your therapist. The pain will be relieved, and your body will thank you for it.
SANDOS SPECIAL 50'/80'
Our 80-minute Sandos Special is a fusion of different therapies like acupressure, stretching, foot reflexology, and aromatherapy, combined with a relaxing massage technique designed to recover energy and well-being.
THE WORLD AT YOUR FEET
THAI MAGIC 80'
"Assisted Yoga" is an ancient therapy based on stretching, acupressure, and meditation techniques known to improve flexibility, relieve tiredness, and diminish muscular fatigue while reducing stress.
SHIATSU ZEN-SATION 80'
"Zen Energy Meridians is known as a Japanese technique of hand-applied pressure on diverse points of the body. It also uses foot reflexology and joint movements to balance the physical body and energy flow.
BODY TREATMENTS
Revitalizing and regenerative treatments that deeply hydrate the skin and help restore vitality and radiance with immediate results.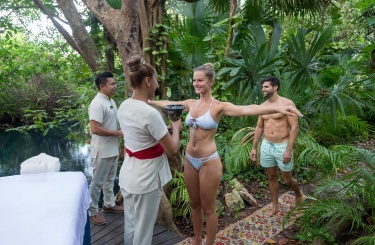 ENERGIZING WRAP
Emollient and body remodeling treatment profoundly penetrates the skin, reducing age marks. It provides a refreshing effect on prolonging skin cell life.
DETOXIFYING WRAP 
Dead Sea Salts and their mixture of fine herbs with essences and Bach Flowers remove impurities from the skin, leaving it nourished, radiant and silky. Depurative treatment to reduce cellulite and muscular inflammation, excellent aid in the rehydration of the skin and purify the lymphatic circulatory system.
ANTIOXIDANT WRAP
Natural and highly effective organic antioxidant treatment for healthy, young, and radiant skin. It protects against factors that cause premature aging due to the high content of antioxidants and caffeine. It also stimulates circulation, providing tone and tonicity to the tissues and is an anti-inflammatory, sedative, and astringent.
FACIAL TREATMENTS
A variety of specialized treatments for each type of skin with a maximum level of personalization and achievement of results. From basic hydration to the highest anti-aging technology with shock effect results!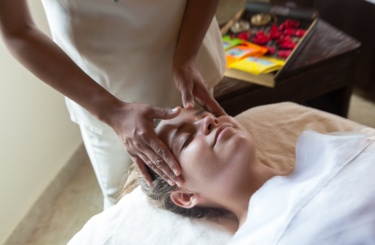 THE O2 RELAX 60'
PURIFIES · BRIGHTENS · BALANCES
Awaken your skin with the revitalizing power of pure oxygen, which cleanses, brightens and clarifies a dull complexion. Perfect for frequent fliers and urbanites whose skin suffers from everyday aggressors.
THE CURE 60'
DETOXIFIES · RESTORES · HYDRATES
A true antidote against the ravaging effects of our modern lifestyle on our skin. This deep cleansing facial includes an innovative enzymatic detox, steam to open and purify pores, and a meticulous extraction process, for extraordinarily soft, radiant skin.
MEN FACIAL
Deep moisturizing and cleansing treatment, designed for the care and needs of male skin, eliminates blackheads and stains, as well as preventing bacterial growth. Instantly get a fresh, clean, and rested look.
EXPRESS FACIAL
Let us restore the luminosity of your skin, with this facial specially designed to optimize the results in those moments that you have a tight time, obtaining an impeccable effect.
RITUALS
Unique therapies developed by a team of experienced alchemists to take you to the clouds. Each ritual is a complete experience of relaxation, beauty, and sensory pleasure.
Undoubtedly the favorite of our most knowledgeable guests!
ANCIENT WISDOM 100'
A mystical massage inspired by ancient pre-Hispanic rituals, ideal for connecting with nature. Enjoy an exquisite relaxing massage complemented by the healing powers of copal and medicinal plants. Helps to relieve anxiety, enhances concentration, releases tension, and helps to recover well-being.
MIND AND BODY 110'
Unique experience specially designed by experts in wellness and beauty for the Sandos group. Multipurpose ritual for face and body stimulates blood and lymphatic circulation, relieving muscle tension in the body, covering critical points of the ancient technique of Shiatsu, providing a sense of peace and tranquility of a newborn.
FACE AND MIND 110'
Awaken your senses through this psychophysical relaxation ritual with facial stimulation, wrap your feelings, relax your body and mind, recover the vitality in your face and allow us to detoxify your skin. Without a doubt, it is the perfect beauty infusion.
PACKAGES
Live the experience of another environment through our packages, which we have specially designed to guide your experience in this way of well-being.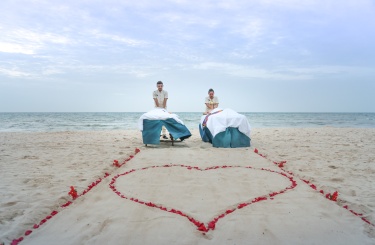 BAMBOO SCRUB 50'
EXFOLIATES · STIMULATES · SOFTENS
Exfoliate your body and pamper your senses with bamboo micro-fibers that soften and remineralize your skin. You'll leave the treatment room with renewed vitality and firmer and intensely hydrated skin.
VITALITY 80'
FIRMS · REVITALIZES · BRIGHTENS
Recharge your skin with the benefits of pure vitamin C. Enjoy a powerful infusion of antioxidant properties in a true sensory treatment for face and back.
MOONLIGHT 50'
A romantic couple's experience where the ocean waves, the moonlight, and the stars are the perfect backdrop for an unforgettable date. Enjoy an exclusive relaxing massage that will bring you into a state of balance, rest and tranquility.
A RELAXING EXPERIENCE FOR THE YOUNGEST
JUNGLE SPA
We're waiting for you at Spa del Mar to pamper you while you spend some quality time with Mom or Dad.
Spa Benefits for Kids
Eliminates stress in children.
Helps their psychological development, changes behavioral patterns, reduces fear thresholds, etc.
Stimulates memorization and learning processes.
Activates the gastrointestinal system and the immune system.
Favors lymphatic and blood circulation; stimulates the contribution of oxygen to effectively clean the circulatory system.
Back and shoulder massages help to regulate the respiratory system.
Tones the muscular system.